We get it. Autonomous mobile robots (AMRs) and mobile robotic equipment (MRE) are relatively new technologies. And despite the rising popularity of AMR and MRE solutions over recent years, for many people, there is still a learning curve involved when it comes to concepts that can make—or break—your success. A key concept is the importance of making the right MRE decision to complete your mobile robot deployment.
As the company that pioneered industry-ready, professionally engineered MRE, ROEQ is committed to closing this knowledge gap by educating partners, end users, and potential customers on all aspects of successful AMR-MRE deployments.
So, with that in mind, let's take a look at four misconceptions that can seriously hurt your bottom line.
Misconception 1
There's No Need to Worry About MRE Until After Purchasing An AMR
The idea that there's no need to think about where MRE fits into your mobile robot deployment(s) until you have already purchased an AMR is a mistake that can seriously impact the success and profitability of your mobile robot project.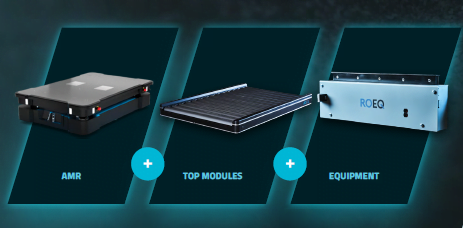 Reality – Always Treat Your MRE & AMR As One
MRE and AMRs belong together. MRE hardware and software are critical components of successful mobile automation deployments and MRE considerations should be given as much importance as your AMR purchasing decision from the very beginning.
Failure to do so will create exorbitant extra costs with incompatibilities, safety issues, and inefficiencies bound to emerge. Avoid these extra costs and risks by considering the joint capabilities of the MRE and AMR before purchasing. Do this with the specific applications that you want to automate in mind. MRE and AMRs are a symbiotic pair –like industrial robot arms and end-effectors like grippers– that need each other to perform the tasks at hand. Misaligned and incompatible technology purchases will almost certainly lead to costly project failure.
To avoid adding exorbitant extra costs to the project, these questions (and more besides) need to be answered before you purchase AMR and MRE solutions:
What proven MRE solutions are available for the application I want to complete?


What features does the MRE need to have for this deployment to succeed?


Will the MRE be fully hardware and software compatible out of the box with the AMR I'm thinking of purchasing?


What safety features, if any, come with the MRE?
Misconception 2
Developing MRE In-House Is Easy & Reduces Expenditure
Many ROEQ customers have tried to develop MRE in-house only to discover that they could have saved time and money and reduced Total Cost of Ownership for their mobile robot deployment by purchasing one of our proven, standard MRE solutions.
Reality – Professionally Engineered MRE Reduces Overall Costs & Complexity
Successful mobile robot deployments rely on professionally engineered MRE that is hardware and software compatible with your AMR, compliant with safety regulations, and comes with software designed to simplify the deployment process and ensure the safety of the final deployment. That's a lot of layers to tackle in-house. And so, even though it can seem relatively straightforward to develop custom solutions for AMRs, this is not the case.
Professionally engineered, fully compatible, plug-and-work MRE systems with supporting software are not only more affordable in the long term, they also provide easy integration, ensure safety, boost productivity, and perform better in the field than their DIY counterparts. ROEQ has focused its engineering and R&D efforts on tackling these compatibility, safety, and usability challenges. This takes a huge chunk of the engineering and technical challenges away, reducing costs and frees your team to focus on other aspects of the deployment.
Out-of-the-box usability makes professional MRE more reliable than its in-house counterparts, which reduces costly downtime and lowers the barriers to adoption.
Specialist MRE consultancy services and after sales customer support, such as those provided through ROEQ's global partner network, also reduces downtime by providing expert rapid response to in-house teams.
Misconception 3
There's Nothing You Can Do to Increase AMR Payloads
A few years ago, it may have been true that MRE couldn't be used to increase the overall payload capabilities of your AMR-MRE system. Holding on to that misconception today could be costly, however.
Reality – Specialized MRE Can Dramatically Boost AMR Payloads
In the past year, new MRE solutions have arrived that provide a significant boost to the out-of-the-box payload of your AMR. This is another good reason to always consider your AMR and MRE purchases at the same time (See Misconception #1, above), since you can save money by purchasing a smaller-payload AMR, safe in the knowledge that your MRE will increase the payload of the overall system significantly.
For example, thanks to ROEQ's TMS-C1500 top module, a MiR1000 or MiR1350 AMR can be deployed on applications with payloads of up to 1500kg. This allows MiR AMRs to be deployed in applications with heavier payloads than ever before. Similarly, the TMS-C1500 allows a MiR500 or MiR600 AMR to be deployed on applications with payloads of up to 800 kg, a massive increase on the 400 kg payload supported by other MRE systems.

Misconception 4
AMR and MRE Systems Are Only for Large Companies
Like other misconceptions about MRE, this was true ten years ago, but is outdated today. This misconception can hurt your business by depriving you of the benefits of AMR and MRE technologies, including the increased production and throughput and improved efficiency, ergonomics, and safety that these systems deliver.
Reality – Companies of All Sizes Can Afford to Deploy AMR and MRE Systems
Typically, large companies feature most prominently early in the adoption curve for new automation technologies. But in the past decade, the cost of AMRs and supporting peripherals and software has fallen dramatically, enabling companies of all sizes to invest in mobile robot technologies. In addition, as usability has risen–thanks to software like ROEQ Assist—the level of expertise required to program and deploy these technologies has fallen. As the technology proves itself in the field, adoption rises, and prices fall, medium and smaller business find themselves in a position to purchase and deploy technologies that were once the sole preserve of large corporations. Expect to see this trend grow over the coming years.